11.19.21 – 11.20.21
Friday evening – Saturday morning
Clipper Magazine Stadium
650 N Prince St, Lancaster, PA 17603
As a Fundraising Champion, you can SUPPORT Tenfold or one of its services: TLC, Beth Shalom, and SoWe.  
Together, we can raise critical funding to help our clients unlock a new path forward to overcome homelessness, achieve housing stability, prepare for homeownership, and access financial security.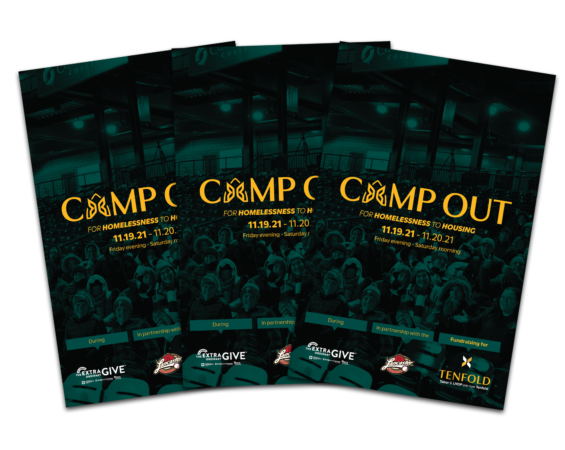 Click here to view our Camp Out Booklet
Camp out with us to empower individuals, families and veterans to access the support needed to conquer their housing and financial goals.
During this time you will:
Hear client testimonials

Enjoy a live concert

Roast a s'more at the fire

Cornhole Tournament

Fundraise for Tenfold through ExtraGive

Camp out on the Barnstormer's field

& so much more!
Timeline of Events:
5:30 – 6:30 PM Campers set up
6:30 – 7:00 PM Welcome Kick Off including speakers
7:00-7:30 PM Dinner (Bring Your Own)
7:30-9:00 PM S'mores, games, Lancaster Improv Players, and Dimestore Dolls concert
9:30 – 11:00 PM Movie
* Event is subject to change in response to new health information
Tabor and LHOP officially merged to become Tenfold: a team committed to sparking the power in all people to achieve equitable housing and financial security through a continuum of services.
EMERGENCY HOUSING Unlocking a new beginning toward housing stability
SUPPORTIVE HOUSING PROGRAMS Empowering people to gain new skills so they can obtain and maintain permanent housing through long-term self-sufficiency
LANDLORD/ TENANT RESOURCES Opening doors to equitable housing through our Housing Rights and Resource Center
FINANCIAL EMPOWERMENT CENTER Unlocking educational opportunities to navigate a new path forward to housing stability, homeownership and/or wealth-building activities
COMMUNITY INITIATIVES Multiplying our impact through collaboration with key community partners
TENFOLD COMMUNITY LENDING Multiplying homeownership opportunities, and increasing the supply of affordable housing through the development of new housing units