Meet Amira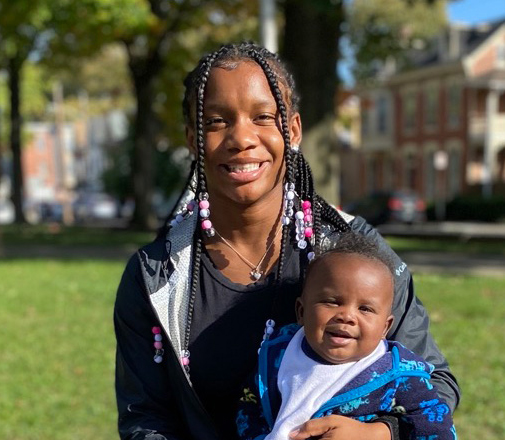 In 2021, at no fault of her own, Amira was locked out of her apartment because it was being shut down by the local municipality due to issues with the property. With limited options, she went to stay with family, but that was short-lived and not a healthy environment.
Amira then learned that she was pregnant. At the time, she was working three jobs and moving from hotel to hotel. She shares, "I can't believe how stressful that was, but I kept saying to myself it gets better, change is around the corner. But it didn't. I ended up with COVID-19, not once but twice, and had to be hospitalized and then quarantined." She then lived out of a car until she learned about TLC.
By January 2022, Amira was settled into life at TLC and felt a world of relief knowing she had a roof over her and her unborn son. Jen, TLC's Director of Programs shares, "Amira showed incredible resilience and motivation during her time at TLC; she should be very proud of herself! She worked hard to find and maintain employment all the while, being exhausted in the late stages of her pregnancy, but always having a smile and a great attitude!"
Amira continues, "Because of the opportunities I was provided here, I was determined to work hard, sit on [save] some money and move forward with my life, and most importantly have a safe birth." And in April, she gave birth to a healthy baby boy. Amira shares that her son was her motivation to continue to grow. At TLC, she also worked on improving her credit score. And by July 8, Amira moved into her own place with her son. Through careful budgeting, she was also able to purchase a new car.
Amira's future is filled with many goals and aspirations. "I'm looking forward to one day owning my own business. As I see it, there is no need to look back, just do what I need to do."